Murgavets Hotel
Address: 41° 39′27′′N 24°41′43′′E
Location:
Murgavets Grand Hotel is located in the centre of Pamporovo in the Rodope Mountain.
The hotel works all year round and offers facilities for sports, recreation, business events and celebrations.
The distance to the ski lift is 500 m.
Accommodation:
The hotel features 2 single rooms, 80 double rooms, 10 luxury apartments, 2 VIP apartments, 2 Presidential apartments.
Single and double rooms feature telephone, mini-bar, cable/sat TV, radio, bathroom with bathtub and hairdryer, balcony.
Apartments feature bedroom, living room, mini-bar, radio,satellite TV, telephone, bathroom with bath-tub, telephone, hair-dryer. Maximum occupancy: 2 adults + 2 children or 3 adults.
VIP apartments are situated on an upper floor. They offer splendid panoramic view, luxurious furnishing, living room, bedroom, bathroom with bath-tub, telephone and hair-dryer. Maximum occupancy: 2 adults in the bedroom, and 1 adult or 2 children on the sofa in the living room.
Presidential apartments offer magnificent panoramic view of the ski-runs. These apartments feature 2 bedrooms (telephone, satellite TV, mini-bar, radio), spacious panoramic terrace; living room, 2 bathrooms with Jacuzzi and a shower-cabin, telephone and hair-dryer. Maximum occupancy: 4 adults + 2 children. An extra bed or a baby cot are provided upon request.
Wine & dine:
The Bulgarian Village Barbecue offers traditional Bulgarian cuisine and Rhodopean specialties, home produced wine and plum brandy, authentic atmosphere and live music.
The hotel offers a main restaurant, spacious lobby bar (70-80 seats), night bar and confectionery with panoramic view.
Conference centre:
The property features fully equipped conference hall (150 seats) for conferences, seminars and other business events.
The hall disposes of multimedia, flip chart, computer port, audio sound system, fax, postal and courier services, X-rox.
SPA & Wellness centre:
The SPA centre offers swimming pool, Jacuzzi, SPA therapies, massages, fitness, sauna, tangentor, solarium, steam bath.
Services:
- A tourist office, a trade center, cosmetics and souvenir shops, sports clothing and accessories, a jewelry, a boutique, etc.; ATM, children's corner with animation, currency change bureau, electronic casino, hairdresser's.
- There is a shuttle-bus to the lift.
- Pets are not allowed in the hotel.
**Hotel rooms may vary in size and style. Guests can be accommodated in a different room from the images shown here as examples only.
Comments Murgavets Hotel in Pamporovo
Please, post a comment on Murgavets hotel.
We will greatly appreciate this. It will help us improve the content of this website, so other people know what they can expect.
Prices for Murgavets Hotel, Pamporovo
Search Results

Select Hotel

Review booking

Inquiry sent
Please fill in your reservation details in the form below. You can read more about the booking process here or read our terms and conditions here. Having problems with your reservation? Contact us now
Check rates at this hotel
| Room type | Meal | LS | HS | PS | MS |
| --- | --- | --- | --- | --- | --- |
| Single Room | BB | 60 € | 72 € | 115 € | 68 € |
| Double Room | BB | 75 € | 90 € | 144 € | 85 € |
| Double DeLux room | BB | 90 € | 113 € | 174 € | 102 € |
| Maisonette | BB | 128 € | 145 € | 198 € | 133 € |
| One-bedroom apartment | BB | 116 € | 128 € | 158 € | 122 € |
| One-bedroom superior apartment | BB | 186 € | 210 € | 242 € | 199 € |
| Two-bedroom apartment | BB | 331 € | 389 € | 452 € | 344 € |
*RO: Rent only, * BB: Bed and Breakfast, HB: Half Board (breakfast and dinner), FB: Full Board (breakfast, lunch, dinner), AI: All Inclusive
The rates are in EUR, per night, per room/apartment. Please use the booking form to get a price for your period of stay, number of persons and meals included.
Price notes
* The prices are in Euro, per room/apartment per night, breakfast included. The rates also include use of swimming pool, sauna, fitness, wi-fi internet, transport to the lift station.
* Maximum occupancy: Double room - 3 adults; 1-bedroom apartment - 2 adults + 2 children or 3 adults.
** Terms of Cancellations: Cancellations of Early bookings are charged with 50% penalty!
Forfeit cancellation payment: In case of cancellation 15-7 days before arrival - 2 nights penalty. In case of cancellation 7 or less days before arrival - 100% penalty.
In case of earlier departure - penalty 100%!
* Children reductions are applicable for children 2-11.99 years valid at the time of the reservation (check in time).
Facilities
room service
safety deposit boxes
information
money exchange
laundry and dry cleaning
business centre
conference rooms
outdoor parking lot
shops and boutiques
restaurant
cafe/bistro
disco/night club
lobby bar
fitness centre
massage
jacuzzi
hydrojet
Room Facilities
direct dial telephone
cable/ satellite TV
radio
minibar
bath/WC
bathtub
hairdryer
balcony
The region is suitable for
relax
tourism
walks
sport in the mountain
mountain biking
Cultural events and monuments
business
Attractions in the region
mountain
beautiful nature
nightlife
historical monuments
natural reserve
Reviews about Murgavets Hotel, Pamporovo
The guest reviews are submitted by our customers after their stay at Murgavets Hotel
Average from 33 Reviews
Services / Facilities
3.0/5
Reviews on Murgavets Hotel
Murgavets Hotel
Simon West from cyprus
sent on

1.5/5

we paid for a deluxe room in what is meant to be a 5 star hotel?!
room was so basic it did not even have tea/coffee making facility, peeling wallpaper and very basic, so why did we pay to upgrade from a standard to a deluxe? When I asked at reception the first day they said it was a deluxe, if that is the case I would not like to see a basic! An absolute joke!

Staff were all unhelpful and rude except for the 2 women in the lobby bar and the lovely gentleman who helped with our cases.

I fractured my foot the first day we arrived and was in plaster and on crutches, the staff in the reception, even though stood at the door, or outside smoking never once offered to help me downstairs or open the door, or ask if you need assistance. They just all stand around looking at you.

Breakfast was rubbish, rubber eggs and a toaster that does not toast the bread, just makes it warm. selection was very poor indeed.

We have been going to Pamporov for over 20 years, first time in Murgavets and definitely will not be back or recommend it to anyone.


Murgavets Hotel
Alexander Popovic
sent on

3.8/5

Murgavets Hotel
Caroline Oneill
sent on

4.3/5

I'd definitely use BulgariaSki.com again in the future, the service was easy, efficient and very professional. Thank you for making our booking so effortless.
Thank you so much.

Murgavets Hotel
Aleksandar Ljangov from Macedonia
sent on

5.0/5

Murgavets Hotel
Carolyn McAllister from UK
sent on

3.2/5

We had a lovely week in Bulgaria. Our transfer was very smooth and efficient in both directions. Our arrival at the hotel was not quite as effecient as there was no booking for our party of eight which was rather worrying at the time plus our rep (Rosen)was not available on the day of our arrival with ski passes ect.,.
We would reccommend Bulgariaski to other people. Thank you.

Murgavets Hotel
Lorraine Gaze from UK
sent on

3.0/5

service for drinks in restaurant was poor. Staff not very attentive.all other support at hotel was good



Murgavets Hotel
Mr Peter T Wright from England
sent on

4.8/5

Food was not very good, it was the same every morning eggs more eggs, the food at night was not verygood as well

Murgavets Hotel
Stefan Panait from RO
sent on

3.0/5

The hotel was ok, brekfast and dinner was ok. In the spa area in the offer sound free of charge for all except SPA and I found is not really because I have to pay for steam room and jacuzzi.
The restaurant service in the New Year Dinner was extremly bad!
The weiter try to trick us, nobody informed us what is the menu for that dinner and I recived the Champagne bottle 5 minutes after the midnight .The weiter told us;I will bring the bottle and after that he disapear in the kichen to not give us what we already payd.It was a biiiig mess!
I was extremly disapointed about New year dinner!
Stefan
Best deals in Murgavets Hotel, Pamporovo
Please contact us to get the best deals for this hotel. You can send us an e-mail or call us: +359 2 962 22 13
Last Minute in Murgavets Hotel, Pamporovo
Please contact us to get the best deals for this hotel. You can send us an e-mail or call us: +359 2 962 22 13
Early Booking in Murgavets Hotel, Pamporovo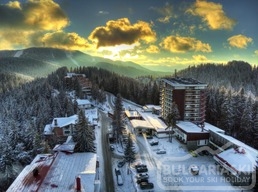 Period: 02 Apr 2019-15 Nov 2023
Offer details:
Early booking discount:
- 10% Early booking discount untill 31 Oct 2023;
- 5% Early booking discount until 15 Nov 2023.

Long stay discount:
- 5% for bookings 5 nights stay and more;
- 10% for booking 7 nights stay and more!

The discounts are not valid for addional dinner supplement.
The discount for early booking can be combined with the long stay discount!
View more about
View more hotels in