Redenka Chalets
Address: Redenka place, Redenka Holiday Club
GPS: 41° 52′27′′N 23°25′21′′E
Redenka Chalets are part of REDENKA HOLIDAY CLUB
Location: Redenka Chalets are part of the Redenka Holiday Club. The chalets are located approximately 8 km away from Bansko ski resort, at 10 minutes driving distance from Gondola ski lift in the resort. The complex offers a splendid panoramic view over the Pirin Mountain.
Accommodation: Redenka Chalets complex offers 8 chalets with 2 bedrooms and 16 chalets with 3 bedrooms. Small chalets consist of two bedrooms, living-room, kitchenette, bathroom with bath-tub. Big chalets consist of three bedrooms, living-room, kitchenette, 2 bathrooms /one with bath-tub/ and sauna. All chalets feature a fireplace, TV with satellite channels, DVD, hair dryer, refrigerator, Internet connection, central heating.
Facilities: Redenka holiday club offers a variety of relaxing and sport facilities such as huge outdoor and indoor swimming pools. The last one is with dimensions 13 x 7 m, with wide windows and water temperature of 30-32°C.
The outdoor swimming pool with water temperature 25-26°C during the summer provides a pool bar, sunbeds and parasols, kids' area.
The SPA and Wellness centre offers Jacuzzi, fitness hall, sauna, massage centre, steam bath and solarium.
The complex offers an open air tennis court, which can be also used as a volleyball playground. There is a football field /72x28 m/, covered with a real grass.
The hotel offers lobby bar, reception desk, game hall with a summer terrace with mountain view.
Conference facilities: For conferences and business events at guests' disposal are 2 conference halls for 25 guests and for 60 guests.
Wine and Dine: The restaurant serves meals from Bulgarian and international cuisines. The restaurant offers rich block tables on breakfast and dinner or a-la-cart menu.
There is an open air barbeque, as well.
Entertainment programs: Excursions; Jeep Safari; Mountain trekking; Mountain biking; Horseback riding, etc.
Entertainment for kids: Redenka offers a variety of children facilities, wide playgrounds, swimming pools, games, children corners, etc.
Transport: The complex offers transport to Bansko during the winter and other towns for extra charge.
**Hotel rooms may vary in size and style. Guests can be accommodated in a different room from the images shown here as examples only.
Comments Redenka Chalets in Bansko
Please, post a comment on Redenka-Chalets-Apartments-Review.
We will greatly appreciate this. It will help us improve the content of this website, so other people know what they can expect.
Prices for Redenka Chalets, Bansko
Search Results

Select Hotel

Review booking

Inquiry sent
Please fill in your reservation details in the form below. You can read more about the booking process here or read our terms and conditions here. Having problems with your reservation? Contact us now
Check rates at this hotel
| Room type | Meal | HS | NY | LS |
| --- | --- | --- | --- | --- |
| Villa | BB | 150 € | 167 € | 128 € |
| Villa Large | BB | 218 € | 231 € | 178 € |
*RO: Rent only, * BB: Bed and Breakfast, HB: Half Board (breakfast and dinner), FB: Full Board (breakfast, lunch, dinner), AI: All Inclusive
The rates are in EUR, per night, per room/apartment. Please use the booking form to get a price for your period of stay, number of persons and meals included.
Price notes
* All prices are in Euro, pеr apartment per night with breakfast included. Guests of the hotel can use indoor and outdoor swimming pool, sauna, steam bath, Internet access, parking lot, transport to the Gondola for free.
Maximum occupancy: Studio – 2 adults; 1-bedroom apartment - 4 adults; 2-bedroom apartment - 6 adults.
* Cancellations:
- For the periods 28.12.2022 - 03.01.2023 up to 01.12.2022 - no penalty. For cancellations after this period – 100% penalty; No show - 100%.
- For the periods – 01.12.2022 – 27.12.2022; 04.01.2023 – 31.03.2023 – no penalty is due up to 7 days before arrival date. For cancellations after this period – 1 night penalty. No show - 2 nights.
* Children reductions are applicable for children 2-11.99 years valid at the time of the reservation (check in time).
Facilities
safety deposit boxes
information
internet access
outdoor parking lot
restaurant
220v/ 50Hz voltage
safety & fire safety systems
bath/WC
daily maid service
fitness centre
indoor swimming pool
outdoor swimming pool
steam room
solarium
sauna
massage
jacuzzi
Room Facilities
cable/ satellite TV
Internet access
fridge
cooking facilities
tea/coffee facilities
iron
ironing board
bath/WC
bathtub
hairdryer
CD & MP3 player
daily maid service
bathroom kit
shower
The region is suitable for
relax
tourism
walks
wine tasting
sport in the mountain
mountain biking
Cultural events and monuments
Historical sightseeing
Attractions in the region
mountain
beautiful nature
nightlife
sea
historical monuments
forests
natural reserve
Reviews about Redenka Chalets, Bansko
The guest reviews are submitted by our customers after their stay at Redenka Chalets
Average from 68 Reviews
Services / Facilities
4.3/5
Reviews on Redenka Chalets
Redenka Chalets
Dejan Ivanovski from Macedonia
sent on

3.5/5

The breakfast is too late. It starts at 08:00, so you can't get to the gondola on time, at 08:30 pr earlier and especially on weekends, you have to wait maybe half an hour or more to get in a cabin.

Redenka Chalets
Dejan Ivanovski from Macedonia
sent on

3.5/5

The breakfast is too late. It starts at 08:00, so you can't get to the gondola on time, at 08:30 pr earlier and especially on weekends, you have to wait maybe half an hour or more to get in a cabin.

Redenka Chalets
Laurentiu Mihai from Romania
sent on

2.0/5

I stayed in one of Redenka Chalets, and it was impossible to sleep at night. The restaurant inside the facility transformed itself in the evenings in some kind of disco-ethno-balkanic dance club. It is unacceptable for any civilized people and very cool for those nouveau riches from Eastern Europe to rent a vacation house outside the town and to have there not a quite and discrete service but a very loud bad taste music.
Not recommended location even for free.

Redenka Chalets
papadopoulou elena from greece
sent on

3.8/5

it is outrageous that the staff does not speak English!!!!!!!!!!No way to comunicate with them excert for body language!!!In such hotels they have to tall a global language!!The facilities were outmoded.These days,cloride is not used in indoor pools!It is extremely unhealthy.

Redenka Chalets
Leora Pinsky from Israel
sent on

3.0/5

The service by mail was good and quick, but sometimes some of my questions were not answered. The chalet was very good, and the cleaning was satisfying. We were asked to pay for a lost key which we thought was not right, but other then that we were very happy with our stay at the chalet and we enjoyed the facilities of the hotel.

Redenka Chalets
Ahmet Kurt from Turkey
sent on

4.2/5

Redenka Chalets
Sanja Culina
sent on

4.8/5

Allmoust perfect - the location, the service, the house!

Redenka Chalets
Petar Nikoloski from Macedonia
sent on

3.0/5

The Chalet was great except that it needed a coat of paint, and bedding that would fit the bed. Every night we all found ourselves sleeping on the mattress which is not very nice. Also, the chalets could use a broom so that we can sweep ourselves. The cleaners do not arrive until after 3 pm everyday just when we are returning from skiing. Bulgariaski was great though! :)
Best deals in Redenka Chalets, Bansko
Period: 08 Apr 2015-01 Apr 2023

Offer details:

Get free overnights:
- 7=6 during 01 Dec - 27 Dec 2022; 04 Jan - 31 March 2023;
Last Minute in Redenka Chalets, Bansko
Please contact us to get the best deals for this hotel. You can send us an e-mail or call us: +359 2 962 22 13
Early Booking in Redenka Chalets, Bansko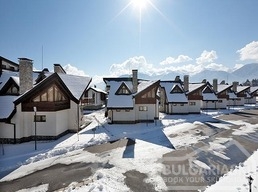 Period: 01 Apr 2019-15 Nov 2022
Offer details:
Early booking offer:
- 15 % discount until 30 Sep 2022;
- 10 % discount until 15 Nov 2022!
View more about
View more hotels in