Perun Lodge Hotel
Address: Georgi Nastev Str, Bansko 2770
GPS coordinates: 41° 49′34′′N 23°29′1′′E
Location: Perun Lodge hotel is located approximately 350 meters from the Gondola ski lift and 800 meters from the center of Bansko ski resort.
Accommodation: The property offers 74 studios, 110 one-bedroom apartments and 20 one-bedroom maisonettes. Most of the guestrooms feature a balcony. The rooms offer mini bar, fully equipped kitchen, TV with cable television, bath/ shower, telephone.
Wine & Dine: The restaurant with 150 seats offers meals from European and Bulgarian cuisine and selected wine list.
The stylish lobby bar with 32 seats offers a variety of drinks and confectionery.
Night Piano Bar with 100 seats provides live music.
Spa & Wellness centre: The Spa and Wellness Centre features indoor swimming pool, steam bath, fitness, sauna, indoor and outdoor Jacuzzi, massage rooms and garden.
Facilities: The hotel offers garage, ski rental and children's playground. The Internet is free of charge.
Extras:
Children's entertaining programs (paid), Children's pool, Kindergarten, Children's playground, Ваbysitter (on request, paid), Baby cot (free of charge)
Ski and Snowboard Depot
Table tennis, Billiards (paid)
Shuttle-bus to the lift (free of charge)
Pets allowed (paid)
**Hotel rooms may vary in size and style. Guests can be accommodated in a different room from the images shown here as examples only.
We also recommend:
Comments Perun Lodge Hotel in Bansko
Please, post a comment on Perun Lodge Hotel in Bansko.
We will greatly appreciate this. It will help us improve the content of this website, so other people know what they can expect.
Prices for Perun Lodge Hotel, Bansko
Search Results

Select Hotel

Review booking

Inquiry sent
Please fill in your reservation details in the form below. You can read more about the booking process here or read our terms and conditions here. Having problems with your reservation? Contact us now
Check rates at this hotel
| Room type | Meal | PS | LS | NY | MS |
| --- | --- | --- | --- | --- | --- |
| Single Room | HB | 61 € | 71 € | 143 € | 74 € |
| Studio | HB | 81 € | 95 € | 143 € | 99 € |
| One-bedroom Suite | HB | 92 € | 106 € | 154 € | 110 € |
*RO: Rent only, * BB: Bed and Breakfast, HB: Half Board (breakfast and dinner), FB: Full Board (breakfast, lunch, dinner), AI: All Inclusive
The rates are in EUR, per night, per room/apartment. Please use the booking form to get a price for your period of stay, number of persons and meals included.
Price notes
* The rates are in Euro per studio/apartment per night, breakfast and dinner included, free use of indoor swimming pool, sauna, steam bath, ski storage for own ski equipment, free WiFi, shuttle bus to/from Gondola Lift station are included.
* Min stay during New Year Period - 3 overnights.
* Cancellations:
- For the period 29.12.2021 - 03.01.2022 - no penalty is due up 01.12.2021. For cancellations after this period – 100% penalty; No show - 100% penalty.
- For the periods 01.12.2021 - 28.12.2021; 04.01.2022 - 31.03.2022 – no penalty is due up to 14 days before arrival date. For cancellations after this period – 50% penalty. No show - 100%.
* For all reservations with Early booking discount is required a 50% deposit within 5 days of making a booking. If the early booking reservations are not paid until the end of the early booking period, they will be calculated without early booking discounts.
For reservations made from 14 to 3 days before arrival date – 100% prepayment is required within 3 days of making the booking but not later than 3 days before arrival date.
* Children reductions are applicable for children 2-11.99 years valid at the time of the reservation (check in time).
Facilities
room service
safety deposit boxes
information
internet access
business centre
outdoor parking lot
multilingual personal
cable Internet
WiFi Internet
conference facilities
220v/ 50Hz voltage
mini-golf
fitness centre
indoor swimming pool
steam room
solarium
sauna
massage
jacuzzi
hydrojet
medical and spa centre
rehabilitation
spa and climatic treatment
electrical and light treatment
medical cosmetics
slimming programs
antistress programs
Room Facilities
air-conditioning
direct dial telephone
cable/ satellite TV
Internet access
safe deposit box
fridge
electric cooker
cooking facilities
tea/coffee facilities
work desk
bath/WC
bathtub
bathrobes
hairdryer
balcony
sound-proof windows
magnetic card lock
daily maid service
heated towel rails
individual control of the AC
bathroom kit
panic button
baby cot
satellite TV
shower
The region is suitable for
relax
tourism
walks
fishing
swimming
hunting
wine tasting
sport in the mountain
mountain biking
Cultural events and monuments
Historical sightseeing
business
Attractions in the region
mountain
beautiful nature
nightlife
historical monuments
forests
natural reserve
trade centres
Reviews about Perun Lodge Hotel, Bansko
The guest reviews are submitted by our customers after their stay at Perun Lodge Hotel
Average from 28 Reviews
Services / Facilities
3.6/5
Reviews on Perun Lodge Hotel
Perun Lodge Hotel
Gary Williams from UK
sent on

5.0/5

I had a fantastic ski holiday, and will definitely use Bulgaria Ski again! Diana was so helpful with my reservation and patient with all the changes that were made :-) Bansko was great, excellent facilities and so much snow. It was a pleasure to stay at the Perun Lodge hotel, and I particularly enjoyed their spa and excellent gym...

Perun Lodge Hotel
Sashko Krstevski from Macedonia
sent on

4.8/5

Very satisfied with the hotel, food, accomodation and service. I will come next year again.


Perun Lodge Hotel
EIRINI NENTELKOU from Romania
sent on

4.2/5

The new year's eve dinner was a fiasco. Wrong choice of plates and entertainment program, the music - especially after midnight - inappropriate and all of that for A LOT of money (please compare whith the other hotels in that area, ex. Perun etc.). The only positive thing that night was the restaurant staff.

Perun Lodge Hotel
pavla kralova from czech
sent on

4.8/5

We were all impressed in the good terms, will definitely recommend to our friends and be back next year.

Perun Lodge Hotel
Petter Stoltenberg from Norway
sent on

4.8/5

Vencislava Ivanova was very helpfull. Thanks a lot.

Perun Lodge Hotel
Trofin Simona from Romania
sent on

2.5/5

The facilities were ok, some of the staff also ok (restaurant & vitamine bar), however the reception staff and the manager of the hotel had a very bad attitude.

Perun Lodge Hotel
Anna Stavrakaki -Vitzileos from Greece
sent on

3.0/5

THE MOST NEGATIVE IMPRESSION WAS THE NEW YEAR GALA :
FOR SURE NOT JUSTYFING 60 EUR PER PERSON .
ALL DANCING AREA WAS COVERED BY LAST MOMENT GUEST'S TABLES, SO THE ONLY POSSIBILITY TO DANCE WAS BETWEEN TABLES .
FOOD QUITE POOR AND MUSIC ORIENTED TO ROMANIAN/RUSSIAN GUESTS WITH FEW EXEMPTIONS (FOR SURE I WOULD PREFER INTERNATIONAL KIND OF MUSIC) .
GALA AS PRESENTED SHOULD BE AN OPTION AND NOT OBLIGATORY .
Best deals in Perun Lodge Hotel, Bansko
Please contact us to get the best deals for this hotel. You can send us an e-mail or call us: +359 2 962 22 13
Last Minute in Perun Lodge Hotel, Bansko
Please contact us to get the best deals for this hotel. You can send us an e-mail or call us: +359 2 962 22 13
Early Booking in Perun Lodge Hotel, Bansko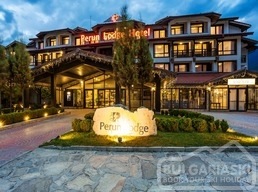 Period: 18 Apr 2019-30 Nov 2021
Offer details:
Early booking discount:
- 15% discount for all reservations made till 31/10/2021;
- 10% discount for all reservations made till 20/11/2021;
View more about
View more hotels in